Episode 310

Information
Location
Hollywood, California
Acts Participating
18
Acts Moving On
11
Acts Eliminated
7
Televised on
August 26, 2008
Previous Episode
Episode 309
Next Episode
Episode 311
The tenth episode of Season 3, and the thirty-seventh episode of America's Got Talent overall, aired on August 26, 2008. It was the first of four Quarterfinals performance episodes and took place in Hollywood. 10 acts performed for 5 spots in the Semifinals.
Performed
Wild Card Eliminated
After a serious injury, the Russian Bar Trio was forced to withdraw from the Quarterfinals. To fill the vacancy, the judges picked eight acts as Wild Card acts eligible for the Wild Card spot. Voting was opened to America. Seven acts did not receive enough votes to be sent to win that spot, eliminating them from the competition again.
| | | |
| --- | --- | --- |
| Contortionist | Ballroom Dancers | Tumblers and Dancers |
| Sword Swallower | Grinding Act | R&B Singer |
| | Robotic Mime Dancer | |
Wild Card Moved On
One act received enough votes to return to the competition and perform later in the Quarterfinals.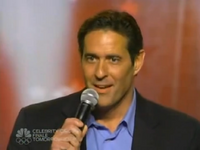 Opera Singer
Ad blocker interference detected!
Wikia is a free-to-use site that makes money from advertising. We have a modified experience for viewers using ad blockers

Wikia is not accessible if you've made further modifications. Remove the custom ad blocker rule(s) and the page will load as expected.