Luigi Padilla

Information
Age (at audition)
30
Sex
Male
Act
Female Impersonator/Dancer
Seasons
2
Position Reached
Semifinalist
Luigi Padilla, who has performed under the stage names of both Shakira and Boy Britney, was a female impersonator and dancer act from Season 2 of America's Got Talent. He was eliminated in the Semifinals.
Background
Edit
Luigi Padilla performs as a Shakira impersonator. He identifies himself with Shakira because he shares some of her life experiences. He loves Shakira for her authenticity. Luigi considers himself very family-oriented.
Luigi Padilla's audition in Episode 203 consisted of dancing as "Boy Shakira". David Hasselhoff buzzed the act. Although Hasselhoff voted "No," Piers Morgan and Sharon Osbourne voted "Yes," sending him to the Vegas Round. Afterwards, Hasselhoff left the stage in protest, though he later returned after a long wait.
Vegas Round
Edit
Luigi Padilla was sorted into the "Variety" category during the Vegas Round. His performance in Episode 205 consisted of dancing again as "Boy Shakira." His audition was strong enough for the judges to send him to the Semifinals in Episode 206.
Semifinals
Edit
Luigi Padilla's Semifinals performance in Episode 208 consisted of being dressed as and dancing as "Boy Britney" (Britney Spears) to "...Baby One More Time." He did not receive enough votes to be sent to the Top 10, eliminating him from the competition in Episode 209.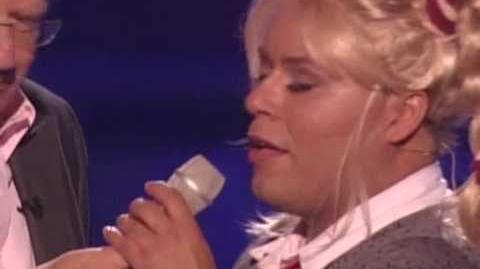 Ad blocker interference detected!
Wikia is a free-to-use site that makes money from advertising. We have a modified experience for viewers using ad blockers

Wikia is not accessible if you've made further modifications. Remove the custom ad blocker rule(s) and the page will load as expected.