Special Head
Talk

0
1,604pages on
this wiki
Special Head
Information
Age (at audition)
28
Sex
Male
Act
Novelty Act
Seasons
8
Position Reached
Quarterfinalist
Special Head was a novelty act in Season 8 of America's Got Talent. He was eliminated in the Quarterfinals.
Background
Edit
The self-proclaimed skills of Special Head, whose real name is Danny Wolverton, are Levitation, Yoga, Meditation, and Acro Balance, Comedy hip hop, live looping Xylophone, Bass, Beat Boxing, Throat Singing, Flute, Synth and some hard hitting beats. Glitch Hop, Down Temp, Break Beats, and Dub-step are also skills he has.
He released his first album in 2011 which was followed by his first tour going up the West Coast. Danny moved to Los Angeles in May of 2012 to be a professional street performer. He can be found as a human statue on the street at the Santa Monica Promenade most Saturdays and Sundays.
This technique he learned in Rajasthan, India while studying under his Guru Racktalian Ranjbar. Special Head channels all seven chakras with a Transcendental Meditation technique. With strength training, balance and yoga Special Head performs the seemingly impossible. Special Head is also a musician performing live looping comedy hip hop with xylophone, bass, beat boxing, throat singing, and flute.
Special Head also produces electronic music of a glitch hop dub step variety. In 2008 he conducted a study in Ethno-Musicology recording music in East and South Africa. He recorded several different traditional groups and produced two compilation CDs of his recordings. He also produced many remixes of these traditional tracks. 1
Special Head's audition in Episode 801 consisted of Tuvan throat singing while creating the illusion of levitating with only his left hand pressed down against his cane. Howard Stern buzzed the act due to a slow buildup but took back the X after the audition. Stern, Heidi Klum, Mel B, and Howie Mandel all voted "Yes," sending Special Head to the Vegas Round.
Vegas Round
Edit
Special Head was sorted into the "Variety Acts" category in the Vegas Round. His performance in Episode 809 consisted of bending his body horizontally backwards over lighted candles. Special Head's audition was strong enough for the judges to send him to the Quarterfinals in the same episode.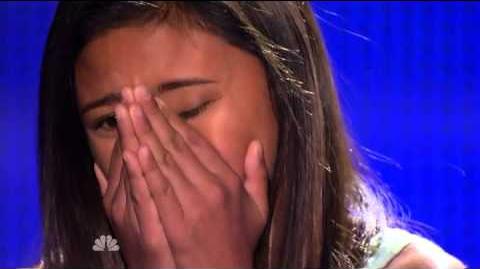 Quarterfinals
Edit
Special Head's Week 1 Quarterfinals performance in Episode 810 consisted of throat singing and creating the illusion of himself levitating and teleporting his body to the outside on the marquee of Radio City Music Hall, all with an ancient Egyptian theme. A major error in his act occurred when his head was visible to the audience while he was leaving the stage area for the marquee.  Heidi Klum remarked "we could all see your special head." He was given the commercial break to return to the stage. Heidi Klum and Howard Stern gave him standing ovations. He did not receive enough votes to be sent to the Semifinals in Episode 811, eliminating him from the competition along with Fresh Faces and Hype. Howie Mandel told Special Head, pointedly, "You blew it."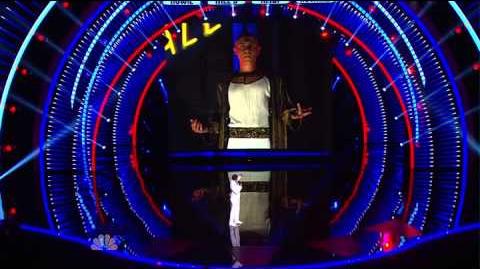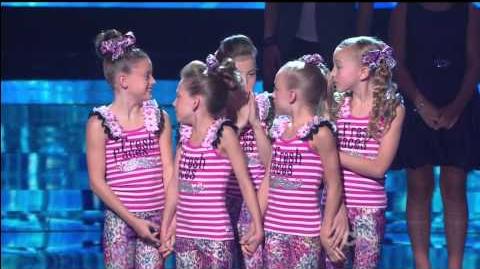 Special Head was the first "magic" act of Season 8 whose audition was televised.
He is the only act so far that Howard Stern has buzzed but then taken back the X.
External Links
Edit