TellAvision

Information
Sex
Mixed
Act
Television Dance Group
Seasons
8
Position Reached
Quarterfinalist
Tellavision was a television dance group act from Season 8 of America's Got Talent. It was eliminated in the Quarterfinals.
Background
TellAvision is live performance art conceived and developed by Dorene Collier and AJ LeBlanc of Event Show Productions. Through two years of research, they created and developed a concept that has never been seen before - a moving story book using wireless technology incorporating video screens joined with live performers, thus to "tell a vision." 1
Audition
Tellavision's audition in Episode 805 consisted of dancing as a group with flat television screens showing images such as shaking hands, different-aged children, and a boy with his dog, all to "What a Wonderful World" by Louie Armstrong. Heidi Klum, Mel B, Howie Mandel, and possibly Howard Stern voted "Yes," sending the group to the Vegas Round.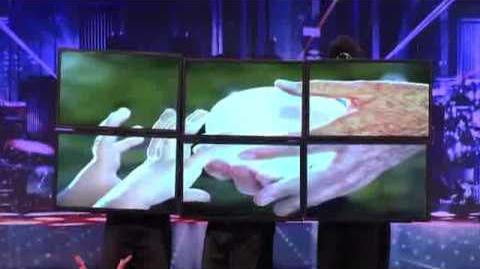 Vegas Round
Tellavision was one of thirty acts to advance straight to the Quarterfinals in New York without performing in Las Vegas in Episode 808.
Quarterfinals
Tellavision's Week 1 Quarterfinals performance in Episode 810 consisted of dancing as a group with flat television screens displaying images such as human silhouettes, stairs, and nature, all to convey the story of the love between a man and a woman to "Beneath Your Beautiful." The act did not receive enough votes to be sent to the Semifinals in Episode 811, eliminating it from the competition instead of Collins Key.
External Links
Season 8 Vegas Round

Immediate Decision
Performed Day 1
Performed Day 2
Ad blocker interference detected!
Wikia is a free-to-use site that makes money from advertising. We have a modified experience for viewers using ad blockers

Wikia is not accessible if you've made further modifications. Remove the custom ad blocker rule(s) and the page will load as expected.